Features & Benefits
New features included:
· Multiple grasping methods for different vision systems - Choose the optimal grasping method for each vision system to find the most suitable picking strategy for various object shapes or bin positions.
· Semi-automatic calibration - Automate your calibration process. All you need to do is write a simple robotic program, wait for the calibration to run till the end, and then just verify and save the results.
· Cycle time monitoring - Get an overview of basic bin-picking statistics such as cycle times based on different action requests.
· Remote access from another PC - Manage your bin picking remotely through a web browser using a local network.
· Latest machine vision software - Bin Picking Studio 1.7.0 comes with the latest PhoXiControl software for PhoXi 3D Scanners.
· Achieve faster image capture with our flagship product MotionCam-3D - Besides PhoXi 3D Scanners, BPS 1.7.0 now also supports MotionCam-3D. This opens a lot of new opportunities for your projects due to faster image acquisition times, which is ideal for hand-eye applications.
· Set unique scanning parameters for different objects - Use one single scanner for picking objects with different shapes and materials. You can define unique scanning profiles for each object, whether you use PhoXi 3D Scanner or MotionCam-3D.
· Define conditions for stopping object localization -In the new version of Bin Picking Studio, you can stop localization after a specific number of objects has been localized or when no new object has been localized for a certain time period.
· Designate multiple scene states - You can define multiple scene states if the robotic cell state changes during bin picking. If you assign an object to a specific scene state, it will be present only when that scene state is active.
Standard Features included:
· Fastest 3D Scanner/3D Camera at a given resolution with best-in-class point cloud quality
· Reach cycle times ranging from 3 seconds and get your investment back exactly as planned
· Our advanced methods for ambient light suppression provide superior-quality scans even in demanding light conditions of up to 20 000 LUX.
· Thanks to its low weight of less than 1.5 kg, the PhoXi 3D Scanner can be mounted directly onto the robotic arm - a very handy option if you need to scan a big bin with a smaller scanner from variable viewpoints, or to get a detailed look at the bin corners.
· You only need a single cable to get both electric power and data connection for a 3D scanner - Power over Ethernet.
· PhoXi 3D Scanner offers the best-in-class thermal stability thanks to hardware enhancements together with the thermal calibration model.
· Off-the-shelf solution
· Proved by line in production for 3+ years with fast ROI
· Experience with integrations in various applications worldwide (1500+)
· Full path planning and collision avoidance
· The system considers all the obstacles as collision objects, including the model of the robot
· Designed for robotic integrators & users
· Easy and intuitive web-based configurator
· In production ML-based localization engines
· Configuration in a virtual environment
· Easy calibration
· Virtual debugging
· Environment builder
· Fast deployment
· World-class customer support - free of charge feasibility and consultancy
What's in the box - https://youtu.be/H8QzJWXWzHE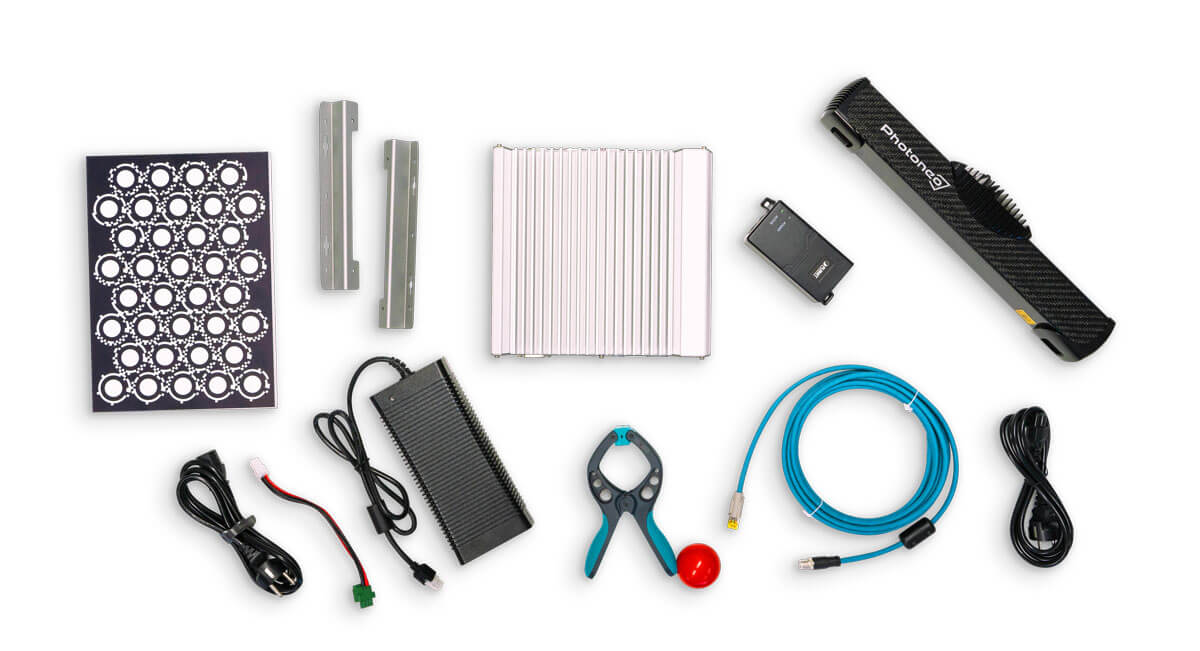 · Pre-calibrated PhoXi 3D Scanner - possibility to choose from XS, S, M, L, or XL size according to desired scanning range/scanning area
· Vision controller running Bin Picking Software (Industrial grade device)
· PhoXi® Control App and Localization SDK software
· Power adaptor (230VAC/20VDC, 160W)
· Ethernet cable
· Power cable
· Power adaptor for Vision Controller
· Calibration object
· License key
· Communication with Doosan Robots
· Documentation
Specifications (specifications for MotionCam-3D Camera may vary to PhoXi 3D Scanner)
· The PhoXi 3D Scanners use structured light patterns to acquire 3D data: https://www.photoneo.com/phoxi-3d-scanner
· The MotionCam-3D is using novel and patented technology of Parallel Structured Light: https://www.photoneo.com/motioncam-3d
· Integrated GPU - New NVIDIA Jetson TX2 4GB processing unit
· Light source: visible red light (laser)
· Laser Class3R/Laser Class 2 device
· Scanning time with PhoXi 3D Scanner: 250 - 2000 ms
· Data acquisition time with MotionCam-3D: 10 ms +
· Ambient temperature: From -20 °C to 50 °C (max gradient 10 °C/hour)
· Operating temperature for optimal scanning performance: From 22 °C to 25 °C
· Overall operating temperature: From 0 °C to 45 °C
· Humidity: From 0 % to 95 % non-condensing
· Atmospheric pressure: From 1080 hPa to 660 hPa (corresponding to an altitude of 1000 m to 3500 m)
· Maximum acceleration: 20 ms-2
· PhoXi 3D Scanner Resolution (number of 3D points): Up to 3.2 Million
· MotionCam-3D Resolution (number of 3D points): Up to 2 Million in scanner mode/Up to 0.9 Million in dynamic mode
· PhoXi 3D Scanner 3D points throughput - Number of 3D points that can be reconstructed in a second in sequential scans: 16 Million
· GPU NVIDIA Pascal™ Architecture GPU with 256 CUDA cores
· IP65 Mechanical Protection. Completely protected against the ingress of dust (dust-tight). Protected against low-pressure jets of water from any direction.
· The Bin Picking solution uses Ethernet communication for main communication between the Vision Controller, 3D Scanner, and Robot Controller.
Compatibility
Compatible with Doosan Robotics models:
· Doosan A0509 (Rapid IK unsupported)
· Doosan A0912
· Doosan H2017 (Rapid IK unsupported)
· Doosan M0609
· Doosan M0617 (Rapid IK unsupported)
· Doosan M1013 (Rapid IK unsupported)
· Doosan M1509 (Rapid IK unsupported)
Dimensions/CAD data/Manuals
https://www.photoneo.com/downloads/device-resources
3rd party Drivers
https://www.photoneo.com/downloads/3rd-party-drivers
Certifications & Standards
PhoXi 3D Scanner certifications: Laser certification (LC3, LC2), FCC IC, CE, EMC, FDA, RoHS, REACH
According to standard EN 60529 PhoXi 3D Scanners have the following mechanical protection: IP65 Mechanical Protection (Completely protected against the ingress of dust (dust-tight). Protected against low-pressure jets of water from any direction.)
Vision controller certifications: CE/FCC Class A, according to EN 55022 & EN 55024 EN 50155:2007